Submitted by

Children's Services

on January 9, 2019 - 9:00am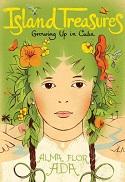 It's a New Year folks, and this January we are learning more about new cultures by celebrating the life and works of one Alma Flor Ada on her 81st birthday. Alma Flor's story begins in Cuba when she was a young girl learning about both nature and language through her grandmother's lessons and stories. She spent her days exploring the world around her through play, and at night she learned about the history of our world through the stories and poems her family would tell her. When she was 17 she seized a scholarship opportunity and went to college in the United States, beginning a new chapter of exploring the world through studies and travel. Alma Flor earned many degrees and saw many new cultures, and when she returned to the States she took those lessons and brought them to the Center for Multicultural Literature for Children and Young Adults in San Francisco.
Alma Flor Ada began writing books for students she taught during her travels in Peru, and has continued since. She has written numerous books of poetry, folk tales, and stories which all share inspiration from the rich cultures she has seen and her childhood experiences. Her books play with Spanish and English culture, showing how much better the world can be when a child learns about new cultures, and has won many national awards. So, this January 3rd as we begin the New Year take a moment and help us celebrate Alma Flor Ada's 81 years of exploring the world.