Submitted by

Adult Services

on December 29, 2018 - 10:13am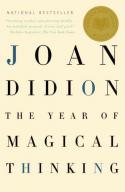 JOAN DIDION was born in Sacramento, California on December 5, 1934. The American novelist and essayist is known for her lucid prose style and her sharp depiction of social unrest and psychological fragmentation.
Didion started her career as a promotion copywriter at Vogue magazine, moving from New York to California. The several moves she would make between coasts from then on would strongly impact and color her writing. During her eight years at Vogue, Didion rose to the position of associate features editor and contributed book and film reviews to National Review and Mademoiselle. Upon moving back to California, she launched her career as a freelance writer and soon drew acclaim for her essays.
In her critical work Joan Didion, Katherine Usher Henderson observed that "in both her essays and her fiction, Didion seeks to render the moral complexity of contemporary American experience, especially the dilemmas and ambiguities resulting from the erosion of traditional values by a new social and political reality. To this end," Henderson noted, "she violates the conventions of traditional journalism whenever it suits her purpose, fusing the public and the personal, frequently placing herself in an otherwise objective essay, giving us her private and often anguished experience as a metaphor for the writer, for her generation, and sometimes for her entire society."
Some of Didion's most well-known works include the National Book Award winning autobiography The Year of Magical Thinking and her first essay collection Slouching Towards Bethlehem.
Click here to view all the Joan Didion titles in our collection.
- Jordan K.