Submitted by

Children's Services

on December 26, 2018 - 9:00am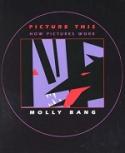 Have you ever wondered why red makes you feel angry? Or why yellow makes you think about joy? Or even why sharp edges and heights seem scary? Well, famed author illustrator Molly Bang has answered all of these questions and more. Through her scientific understanding of illustrations Molly Bang has created numerous children's books that combine simple illustrations with simple stories to create a variety of emotions. She has explored the depths of art and illustration to bring us such books as Ten, Nine, Eight and When Sophie Gets Angry—Really, Really Angry. Molly Bang has even taken her artistic discoveries and explained them in a simple manner for adults who are curious as to why certain pictures evoke specific emotions in Picture This.
Molly Bang began exploring the curious connection between stories and illustrations in her youth, while her parents gave her a great understanding of science and discovery. Later she went on to teach in Japan, worked as a Japanese interpreter in the states, went to graduate school, and even worked as a reporter for a time. All the while she explored the world and tried to figure out its many mysteries, an experience that she then translated into her books. So, this December 29th, when you're wondering about why, sit down with a book by Molly Bang and help us celebrate her 75th birthday.