Submitted by

Teen Services

on November 18, 2018 - 10:00am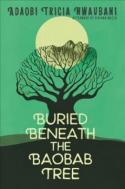 This novel by Adaobi Tricia Nwaubani takes place in Nigeria and tells the story of a young woman kidnapped by Boko Haram, a terrorist group, along with the other girls and women from her village. It follows her life before and after the kidnapping; her dreams of attending boarding school, becoming a teacher, and having her own family to the suffering and abuse she endures after her kidnapping. This is an emotionally intense story of joy, hope, and survival based off real interviews with women and girls kidnapped by Boko Haram in 2014. There is also an afterword by award-winning journalist Viviana Mazza about the kidnappings of the 276 Chibok girls.
I highly recommend this book to learn about an event that has recently happened and to gain a rare perspective not often told. This is a powerful story that will surely captivate any reader!