Submitted by

Adult Services

on October 10, 2018 - 12:00pm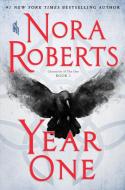 NORA ROBERTS was born on October 10, 1950. She is an American author of more than 225 romance novels and was the first author to be inducted into the Romance Writers of America Hall of Fame. As of 2011, her novels had spent a combined 861 weeks on The New York Times Best Seller list, including 176 weeks in the number-one spot. Some of her best-selling books include her Chronicles of The One series, Shelter in Place, and Come Sundown.
View all the Nora Roberts titles in our collection.
- Jordan K.