Submitted by

Adult Services

on November 17, 2018 - 9:44am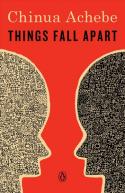 CHINUA ACHEBE, full name Albert Chinualumogu Achebe, was born in Ogidi, Nigeria on November 16, 1930. Writing in the midst of a post-colonial movement of African nations casting off decades of foreign rule and seeking political sovereignty, Mr. Achebe lent a voice to a generation of Africans who refused to be defined solely through the lens of European thought. Part of that work involved telling distinctly African stories from the perspective of African characters, helping to forge a literature that—like newly created countries—was independent from Europe. He is considered by many to be "the father of modern African literature" and is acclaimed for his unsentimental depictions of the social and psychological disorientation that accompanies the imposition of Western customs and values on traditional African society. He is best known for his 1958 novel Things Fall Apart.
Click here to view all the Chinua Achebe titles in our collection.
- Jordan K.