Submitted by

Adult Services

on August 11, 2018 - 1:15pm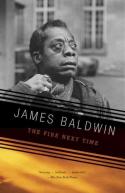 JAMES BALDWIN was an essayist, playwright, and novelist who was born on August 2, 1924, in New York City. He is regarded as a highly insightful, iconic writer who garnered acclaim for his insights on spirituality and humanity. An astute observer of race and American culture, Baldwin saw his personal mission as bearing "witness to the truth." Some of his most well-known works include Go Tell It on the Mountain, Giovanni's Room, and The Fire Next Time.
View the James Baldwin titles in our collection.
- Jordan K.