Submitted by

Adult Services

on August 31, 2018 - 5:02pm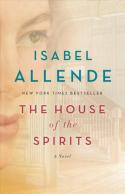 ISABEL ALLENDE is a Chilean journalist and author born on August 2, 1942 in Lima, Peru. She was the first South American female writer to reach an audience on a global scale and has become known as one of the most important writers in the genre of magical realism. She has written over 20 books that have been translated into more than 35 languages and sold more than 67 million copies.
View the Isabel Allende titles in our collection.
- Jordan K.