Submitted by

Children's Services

on October 17, 2018 - 9:00am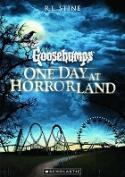 As the autumn chill sets in and the nights become longer a sensation of fear and goosebumps begin to crawl along our hearts. October is certainly the month of scares, which makes it the perfect month for famed horror author R.L. Stine's 75th birthday! For many of us R.L. Stine is not only the master of childhood horror, but also our introduction to the horror genre. From reading Goosebumps under our covers with all the lights on, to delving into Fear Street with naught but a flickering flashlight, to huddling around a screen to watch The Haunting Hour, we have all learned about horror and our limits with it thanks to these delightfully dark tales.
Funnily enough, R.L. Stine was originally a writer of humor, publishing several joke books and magazines meant to make people laugh. In 1986 Stine began writing young adult horror and became an instant success. Now known as he who writes horror, Stine moved onto developing more child friendly fears and television programs that still spooked, scared, and shivered many a spine. He still continues to write horror for all ages and plans to do so for quite some time. So, this October 8th take a moment to think about R.L. Stine and wonder, when will he strike next?