Submitted by

Children's Services

on October 3, 2018 - 9:00am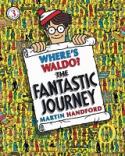 Can you spot this famous children's author in a crowded room? This past September we celebrated the 62nd birthday of the man behind Waldo: The man with the red and white striped hat, large glasses, and ability to blend into any crowd. Waldo has both delighted and infuriated both children and adults over the years, inspiring exploration of the world around us, encouraging us to persevere in the face of a challenge, and teaching us all the importance of paying attention to the smallest details. Waldo has baffled generations with his superb hiding skills, sometimes joined by his friend Wenda or his arch-enemy Odlaw, and it is all thanks to British author and illustrator Martin Handford.
I think most of us hold fond memories of Waldo, yet his creator seems to be a mystery to our search minded eyes. Inspired by films and toys from his childhood during the 1960's young Martin Handford went to art school to learn how to become an illustrator. When he graduated he became a freelance artist who was known for his ability to draw large crowds and create unique album designs. In 1986 a friend approached Martin and encouraged him to create a children's book, and thus Where's Wally? was born. Wally became Waldo when the book was published in North America, and became an icon for puzzle doers everywhere. So help Martin Handford (belatedly) celebrate his 62nd birthday, and see if you can find Waldo.