Submitted by

Teen Services

on September 23, 2018 - 2:22pm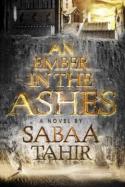 Sabaa Tahir's An Ember in the Ashes takes place within the fantasy world of the Martial Empire. Inspired by ancient Rome, the story revolves around the different factions within the Empire and the brutal and powerful Emperor who controls all. There are the Scholars- a race of oppressed individuals who once ruled the Martial Empire, but now are either enslaved or in poverty. The Resistance- a secretive group of rebel Scholars whose goal is to overthrow the Emperor and the Martial Empire. The Masks- fierce soldiers who wear silver masks and enforce the rule of the Emperor. The Tribes- a group of nomads who accepted Martial rule in exchange for free movement of their people.  And the Augurs- a group of 14 Martial holy men and women who can see the future and are believed to be immortal.
The novel begins with the Scholar Laia and her life with her grandparents and brother living in the impoverished backstreets of Serra. After her brother is arrested by Martial forces and accused of working for the Resistance, Laia makes a deal with the rebels to rescue her brother in exchange for her to become a spy at the Empire's greatest military academy. At the school, Laia meets a Mask in training, Elias Veturius-- a highly skilled warrior and the finest solider at Blackcliff Academy. Elias, along with his best friend Helene and rivals Marcus and Zak Farrar, have been chosen by the Augurs to compete in the Trials, a series of complicated and bloody tests that will decide the next Emperor of the Martial Empire. Problem is, Elias doesn't want any of it and only wants to be free from the academy and its tyranny. This desire sets him on a path that will intertwine his and Laia's destiny along with the fate of the Empire.
The novel is narrated in first-person, but the point of view changes between Laia, Elias, and Helene. I really enjoyed all of the main characters and their points of view, which resulted in an exciting and page turning experience. After finishing An Ember in the Ashes, I quickly jumped to read the next in the series and I've just finished the third and newest edition. The second and third book are just as enjoyable as the first, so I highly recommend all the books in this series so far. I believe they are also in talks of turning this series into a movie, so get in before they are super popular and check them out! 
Rachel B.