Submitted by

Teen Services

on December 11, 2016 - 12:00pm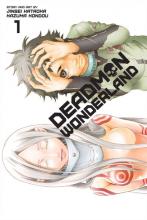 Ten years after a cataclysmic earthquake buries most of Tokyo under water, Japan's only privately owned prison, called Deadman Wonderland, sells tickets to the "games" held at the prison in order to raise money to rebuild Tokyo.
Ganta Igarashi is a 14-year-old boy who, like most, lost a family member to the earthquake. And in his new life so many years later, tragedy strikes again. A mysterious figure, called "Red Man," shows up at Ganta's school, massacres all of his friends, shoots him in the chest with something that leaves no mark, and then leaves Ganta to take the blame. The police arrest Ganta and sentence him to the death penalty. And he is sent to...you guessed it:  Deadman Wonderland. Ganta quickly realizes that the "games" the prisoners are forced to play are not as harmless as the public assumes they are.
While in prison, Ganta meets the strange Shiro, a friendly, though unstable, girl who seems to come and go as she pleases. She and Ganta were friends before the earthquake, and, even though Ganta doesn't remember her, Shiro decides that she will protect him no matter what.
As if the crazy world of Deadman Wonderland weren't enough, Ganta soon realizes that there is something even more sinister going on. Something to do with Red Man. There are those who possess a "branch of sin," giving them special destructive powers. Red Man used these powers to murder Ganta's friends, and, when faced with Red Man again, Ganta realizes that he now has the same powers. Unfortunately, the prison officials also notice, and Ganta learns that those with a branch of sin are kept in a special section of the prison. And these special prisoners have their own games to play.
Can't get enough manga? Read this awesome article about the history of manga as an artform.
ep