Submitted by

Adult Services

on August 10, 2016 - 10:37am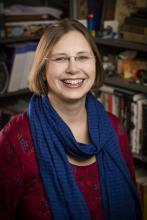 The fates have smiled on Urbana, and we are thrilled to have Comics Lover, Scholar, and Activist Carol Tilley on hand for our very first Comic Con.  You may know her as the University of Illinois researcher who has looked into the Secret History of Comics Censorship.  Her research debunking the notorious Frederic Wertham's Seduction of the Innocent made headlines; he was one of many who has at various times hysterically claimed that comics corrupt young people (and warned adults that Batman and Robin might inspire homosexual tendencies!).  She's a smart, tenacious researcher, but Tilley is at heart a life-long lover of comics, who loves the power of creative stories well-told, who knows the lure of the evil villain and flawed but courageous heroine/hero.  That passion really lights up her work and shines through when she talks - as she has many times - at Comic Cons, conferences and library events around the country and the world.
Most recently Tilley served on the 2016 Eisner Awards Committee - the "Oscars" of the comics world.  Thanks to the judges, the awards acknowledged the talents of more women than ever, with some saying it's a "turning point" for women in comics.   That's a perfect lead-in to the topic this Saturday at 4pm  (August 13) when Tilley will be our special guest, talking about the great women comics - including Dale Messick, Jackie Ormes, Roz Chast, Rumiko Takahashi, and Alison Bechdel — who have been making their marks on the world of comics over the past century.   Don't miss it!
- cpi