Submitted by

Local History a...

on July 2, 2018 - 3:20pm
Bernice Harrison was a dedicated school teacher who lived most of her life in Champaign County.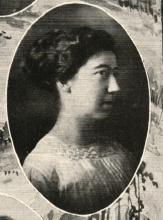 She was born on March 15, 1891 on the Harrison family homestead outside of Champaign. Her parents, Benjamin E. Harrison and Martha Cook Harrison, both came from pioneer families. In fact her mother, Martha, was the first baby born in the town of Ivesdale in 1857.
Bernice spent her childhood and early-adult years on the family homestead, and attended Champaign High School. She subsequently enrolled at the U of I, where she received her Bachelor of Arts degree. After graduating from college, she started looking for teaching jobs in the area. In 1912, she was hired as a math and science teacher at Homer High School. In the early-twentieth century, commuting between Champaign and Homer wasn't as quick and easy as it is today, so Bernice moved into a boarding house in Homer to be closer to her work.
During her first term at Homer High School in 1912, Bernice sent this postcard to a relative in Hammond, Indiana.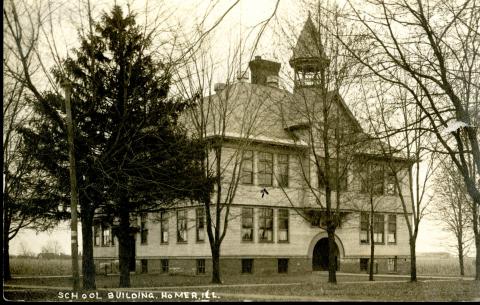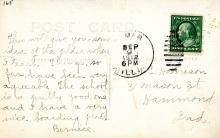 "This will give you some idea of the place where I teach," Bernice wrote. "Things, so far, have been very agreeable. The school is a pretty good one and I have a very nice boarding place."
Bernice became known as a no-nonsense teacher, and students knew to behave during her classes. "When she frowns, the skies grow dark and a great tempest rages," students wrote of Bernice in the 1914 Homerian yearbook. "Then the frown clears, the sun appears from behind the clouds and we know that all is well. Her sunny nature will make friends for her wherever she goes." This is how she gained the nickname "Tempest and Sunshine" among her students. 
She left her job at Homer High School in 1915, and was replaced by fellow U of I graduate Grace Dexter. Bernice Harrison remained active in the county during this time, and led various Bible study groups in Rantoul and Fisher. In 1919, she married Reverend Walter Baker. The couple had six children, William, Fred, Walter, Betty, Harriet, and Virginia. The young family lived for a time in Toledo, Illinois in Cumberland County, before eventually settling in Monticello.
Bernice Harrison Baker passed away on Friday, March 28, 1975. But her story remains alive in the archives' many newspapers, yearbooks, and postcards.
- Breaden B. 
Archives Assistant 
Sources
Champaign County Postcard Collection, postcard 165, Champaign County Historical Archives, Urbana, Illinois.
Fisher News, March 30, 1975
Homerian Yearbook, 1914
News-Gazette, January 10, 1935
News-Gazette, January 13, 1935
News-Gazette, March 30, 1975