Submitted by

Teen Services

on June 14, 2018 - 11:59am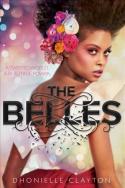 In Orleans, beauty is power.  Cursed generations ago, the people of Orleans are born gray.  Because of this, they revere beauty and will pay exorbitant sums to the Belles:  girls born with a magical ability to temporarily change a person's appearance and temperament. 
Camellia dreams of being the queen's favorite Belle.  The one who will ensure the beauty and youth for the royal family and their court.  It's a great honor, and it's all she's ever dreamed of.  While Camellia knows how to change a person's hair and eyes, nothing prepares her for the machinations of the court and how cruel the most beautiful can be.  She quickly finds herself in the middle of a battle for the crown and her life.
You might think based on the cover that The Belles by Dhonielle Clayton is a light-hearted fantasy.  And it does start out that way, but over time the darkness insidiously seeps in until the curse plaguing the people of Orleans seems mild next to the plots at court.  There's nothing too gory, but it gets nasty.  Camellia has to learn quickly what is true and what's a lie; who seems nice but has a hidden an agenda, and who she can trust.  The politics get more and more tangled, and the end will leave you breathless and desperate for the next book.
Lauren C.