Submitted by

Local History a...

on May 23, 2018 - 4:26pm
It might be hard to believe – but for the first 67 years of it's history, Urbana did not have a fire department.
That changed in 1900, when William H. Roughton organized a volunteer fire department, the town's first.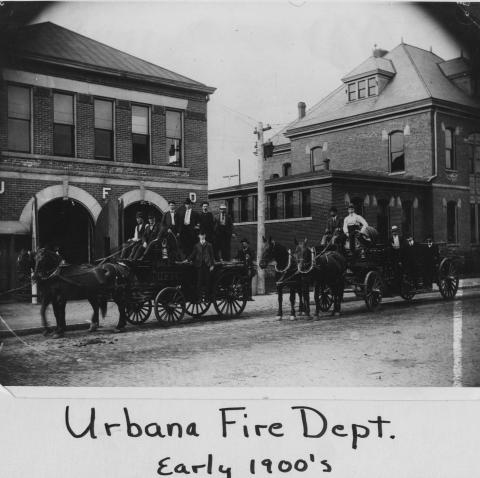 William Roughton lived his entire life in Champaign County. He was born on June 3, 1858 two miles north of Urbana. In 1883, he married Myra Carver of Auburn, Indiana. The couple had two daughters, Ethel and Nelle.
Roughton was a civically minded man, and dedicated most of his adult life to public service. Before establishing the fire department, he served as deputy sheriff, and was also Urbana's Chief of Police for many years. 
In 1900, Roughton was made chief of the new fire department, which was housed in a two-story brick building on Elm Street, next door to the Urbana City Building.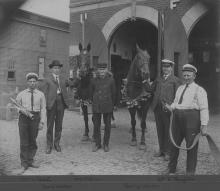 In 1908, the City of Urbana made the volunteer force a paid organization. Roughton continued on as Fire Chief during this time.
William Roughton worked tirelessly to make the department efficient, and became known as one of the best fire chiefs in the state of Illinois. As chief, he focused his attention on fire prevention, and was instrumental in keeping Urbana's fire loss figures at low levels.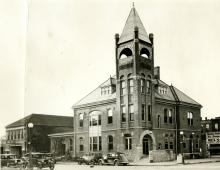 On November 16, 1916, Roughton sustained severe injuries while responding to a fire, and was rushed to Burnham Hospital. Despite the seriousness of his injuries, doctors were optimistic about his prospects for recovery. However, he developed pneumonia shortly thereafter, and died on Sunday, November 26.
His funeral was held at the Universalist Church in Urbana on Tuesday, November 28. Local businesses were closed for two hours that afternoon out of respect for the fallen fire chief, and members of the Champaign Fire Department attended the service. William Roughton was buried in Woodlawn Cemetery.
Breaden B. 
Archives Assistant 
Sources
Champaign Daily News, November 27, 1916
Urbana Daily Courier, November 27, 1916