Submitted by

Teen Services

on May 23, 2018 - 10:53am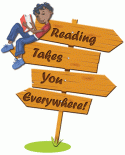 Summer reading has started!  This summer Reading Takes You Everywhere!  Win prizes for reading the books you were going to read anyway, and read more to win more!  Ebooks and audiobooks count!
Teen Summer Reading Rules:
For teens who have completed grades 6 through 12.
Select books of your choice and keep track of the number of pages read.
Every time you read 1,000 pages, come to the Library to pick out a free book from our selection of new books.
Reading also enters you in a weekly raffle to win a complete book series.
Sign up here.
Every person who completes the Summer Reading Program will be entered in a prize drawing for one of three Kindles!
Don't forget, this Saturday, May 26th, from 3:00 - 4:30 p.m. is the kick-off party!  There will be lemonade, ice cream, and a dance party; as well as international crafts and coral reef activities!
The concert is generously sponsored by Larry and Margaret Jobe in honor of grandsons Arlin and Berk Orr.
The Summer Reading Program is generously supported by the Friends of The Urbana Free Library.
Lauren C.