Submitted by

Local History a...

on May 12, 2018 - 3:42pm
The cities of Champaign and Urbana have had countless big-box store closings over the years. One such loss was Kmart. The location of the original Kmart store in Champaign-Urbana was at 800 Bloomington Road where the current Home Depot is located.
Champaign's Kmart held its ribbon cutting ceremony on Thursday, March 7, 1963. It was the second Kmart store in Illinois and attracted close to 10,000 people on its opening day. In the excitement 5 children lost their parents, but were eventually reunited, and state police were called to help with traffic control as cars were at one point backed up on Prospect Avenue to Pioneer Street. This location converted to a Super Kmart and was in operation from 1995 to 2004.
Urbana got its own
Kmart at 1710 Philo Road in 1975. Slightly smaller than the Champaign store at 84,000 square feet, the Urbana location offered the same 50 departments as the Champaign store while also offering lumber, paneling, and ceiling tiles. The Urbana store closed in 2003.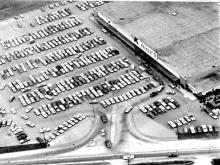 Champaign Kmart parking lot looking northeast, 1968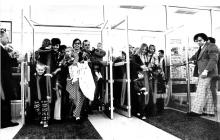 Urbana Kmart opening day, April 3, 1975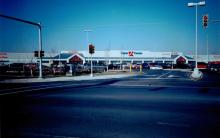 Super Kmart Center, Bloomington Road Champaign, 1990s
Shalini 
Archives Assistant