Submitted by

Local History a...

on April 18, 2018 - 4:41pm
In 1975, William Elliot Dye became Champaign's first black Chief of Police. Dye's appointment was an important moment in the city's history, as officials struggled to bring diversity and fairness to local government.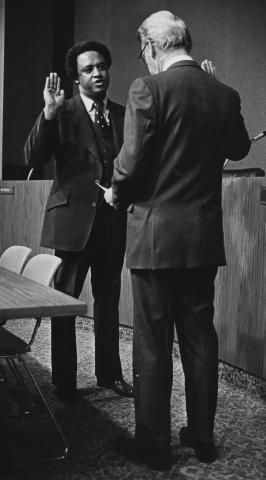 A life of training, experience, and hard work led Dye to his appointment as Champaign's Chief of Police.  
Born in Elberton, Georgia in 1933, William's family moved to Chicago when he was a young child. He earned his bachelor's degree from Southern Illinois University at Edwardsville, and a master's degree from Sangamon State University, now the University of Illinois at Springfield. He married Azalee Juanita Biggs on December 31, 1954.
During the Korean War, Dye served as a cryptologist, and attained the rank of Staff Sergeant. After receiving an honorable discharge, he returned to Illinois and enrolled in the Illinois State Police Academy. Dye then joined the Illinois State Police, and served for seven years as a uniformed officer, and four years as a detective. He was appointed Chief of Police in East St. Louis in 1971.
After four years in East St. Louis, Dye and his family moved to Champaign where he took the top job at the Champaign Police Department. His appointment was announced in the Urbana Courier on March 12, 1975.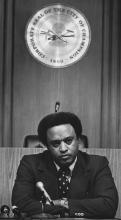 Champaign City Manager V. Eugene Miller praised Dye's appointment "effusively" in an interview with the Courier. "Dye consistently came out at the top of the city's testing procedure," Miller said. "We feel we have the very best."  The Courier also noted the significance of Dye's hiring to lead a department that "traditionally had few black officers."
Eugene Miller pointed out that during Dye's tenure as Chief of Police in East St. Louis, he had developed a "good reputation for hiring blacks and women," including the first five women officers in the city's history. Miller was confident that Dye would "help the city find more blacks and women for the police department." Champaign's Mayor, William Bland, also voiced his commitment to hiring minorities, and his confidence in Dye.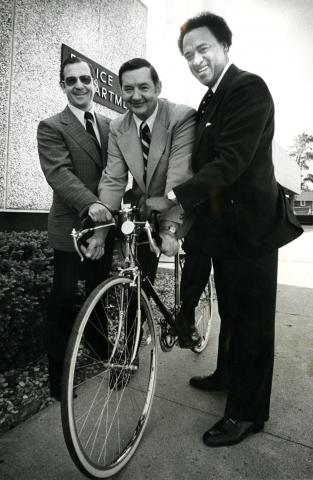 During his time as Champaign Chief of Police, Dye oversaw the construction of the new police station on the corner of First and University, instituted a neighborhood watch program, and continued to emphasize the recruitment of minorities. He served as a role model in the community, and regularly spoke to groups at the Douglass Center.
William Dye left the Champaign Police Department in 1982 to become the chief of police in Columbia, Missouri, where he remained until 1987. Dye also attended the FBI Academy in Quantico, Virginia during this time.
He died of cancer on February 7, 1994 at the age of sixty. Three days later, the News-Gazette published a story on his life and career, and the impact he had on the Champaign community stating, "It was a feat in 1975 for a black man to hold such a position, and it didn't go unnoticed." The article continued, "He was a role model for the young, an example of how an African-American could succeed. Adults in the black community looked at him with pride and respect." 
Today, William Dye's life and legacy remain an important piece of local history. 
- Breaden Belcher 
Archives Assistant 
Sources
The Champaign-Urbana Courier, March 12, 1975
The Champaign-Urbana Courier, May 1, 1975
The News-Gazette, February 10, 1994
The News-Gazette, February 11, 1994