Submitted by

Adult Services

on November 29, 2017 - 12:00pm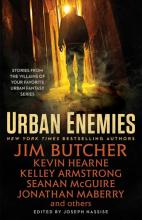 Be honest:  you've wanted a story from the point of view of your favorite urban fantasy villain for a long time. The rogue Huntsman from the Cainsville series by Kelley Armstrong. Gentleman John Marcone from the Dresden Files series by Jim Butcher. The cuckoos from the InCryptid series by Seanan McGuire. Just take a moment to dream about how awesome that would be…
…But wait! You don't have to just dream about it! Urban Enemies provides 17 new stories by your favorite urban fantasy authors, told from the point of view of one of the antagonists of the series.
I was drawn to this title for two stories:  "Even Hand" by Jim Butcher, told from the point of view of Marcone and "The Naughtiest Cherub" by Kevin Hearne, told from the point of view of Loki.
Gentleman John Marcone is minding his own business when Justine of the White Court vampires comes to him, holding a child and asking for sanctuary. Before he could say no, the powerful being she was running from attacks his office.
In "The Naughtiest Cherub," Loki descends into Hell to convince Lucifer to side with him during Ragnarok. Only Lucifer is not known for playing well with others. And neither are the many demons of Hell, for that matter.
Haven't heard your favorite author represented? Well, Urban Enemies also features Jeff Somers, Craig Schaefer, Lilith Saintcrow, Caitlin Kittredge, Joseph Nassise, Carrie Vaughn, Jonathan Maberry, Faith Hunter, Jon F. Merz, Diana Pharaoh Francis, Steven Saville, Domino Finn, and Sam Witt.
And check out Urban Allies while you're at it! These collaborative stories are written by many of the authors in Urban Enemies. In this collection, two urban fiction authors unite their series in a story that features both authors' characters.
-Elisabeth