Submitted by

Teen Services

on March 30, 2018 - 9:30am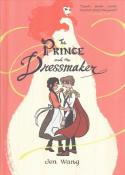 Frances is a talented but unknown seamstress.  Sebastian is a prince whose parents want to see him married sooner rather than later.  When Frances makes a risqué dress for a girl attending Sebastian's 16th birthday ball, her sense of style catches the eye of a mysterious patron and she becomes their personal dressmaker. 
She's shocked to learn that her new employer is none other than Prince Sebastian, and he wants her to make high fashion dresses for him.  Going by the name Lady Crystallia, Sebastian, wearing France's dresses, takes the fashion world by storm, becoming an instant icon.  But as their notoriety rises, so does the risk that they will get caught, and Frances starts to wonder if she wants to keep hiding in the shadows to protect Prince Sebastian, despite the fact that they've become good friends and maybe more.
Part fashion extravaganza, part tale of friendship and acceptance, The Prince and the Dressmaker by Jen Wang is a feel-good comic that will make you cheer.  It will inspire you to believe in your own style and to surround yourself with friends who have your back.  Also the dresses in this comic are gorgeous!  If fashion is your thing, you're going to love the haute couture looks in here.
Lauren C.