Submitted by

Local History a...

on March 29, 2018 - 12:45pm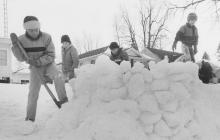 Kids build a snow fort, 1985
With the snow storm this past weekend, it may be easy to forget that winter is on its way out. Here is a look at some of my favorite Champaign County winter pictures for your enjoyment.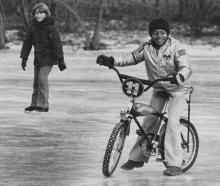 Kids skating and biking on Crystal Lake, 1978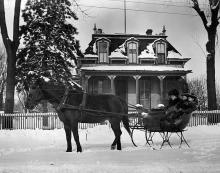 Horse-drawn sleigh outside of the William Redhed House, Tolono, ca. 1890.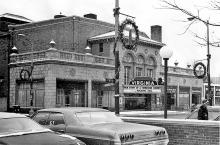 The Virginia Theater decorated for the holiday season, 1974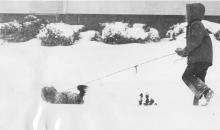 Duty calls! Six-year-old Tom Wright of Champaign and his dog Winston didn't let Monday's snowfall keep them from their daily walk, 1978.
"North Lincoln Avenue in Urbana was a wasteland littered with abandoned cars before dawn on Friday," caption from the January 29, 1978 Courier. 
Snowmobilers Kirk Kresis, Wilbur Clark, and Tim Woods make their way down U.S. 45 near Curtis Road south of Champaign, 1978.
Donica M., Archives Librarian