Submitted by

Teen Services

on March 21, 2018 - 9:00am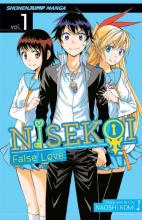 Raku has a dream.  One summer when he was little, he fell in love.  He and the girl made a vow to get married when they were older, and Raku kept a heart-shaped padlock while she kept the key to the lock.  When they met again in the future, they'd know each other because their lock and key would work together.  Now that Raku is in high school, he still wants to marry that girl. 
There's just one problem.  He's never seen her again and he can't remember her name or what she looked like (yeah, I know it's a bit odd that he forgot those things, but he was really little when he fell in love.).  Did I say one problem?  Well, there's two.  His father runs a gang and has just arranged for Raku to date the daughter of a rival gang to put an end to a gang war (Surprise!).   Raku's fake girlfriend, Chitoge, hates him.  And he's not too fond of her either.  Raku was hoping that his best friend, Onodera, was his childhood sweetheart and he was working up his nerve to tell her he liked her.  Now he's trying to win Onodera while having to convince everyone else that Chitoge is his girlfriend, and he still wants to find the girl who has the key.  Things are about to get complicated.
If you can't tell, Nisekoi: False Love by Naoshi Komi is a romantic comedy.  There's mistaken identity, fighting, and a lot zaniness.  If you're tired of dark and broody manga, then Nisekoi will be a breath of fresh air.
Lauren C.