Submitted by

Teen Services

on December 27, 2017 - 11:45am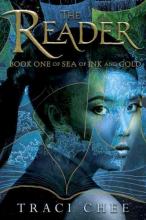 Sefia has been on the run with her aunt Nin for most of her life.  Her parents were hunted to their deaths because of a rectangular object they had in their possession.  Now it's up to Sefia to keep the object safe.  Unsure if it is powerful or valuable, Sefia and Nin have kept moving, never staying in one place.  But their luck has just run out.  When Nin is captured, Sefia's only hope of rescuing her aunt and understanding why her family is in danger is to understand the object.  All Sefia knows is that it is called a book, and it is filled with strange symbols on paper.  If she can master its secrets maybe she can defeat whoever is after them and finally live unafraid.  First she has to learn what the book is and how to read it.
The written word is unknown and dangerous.  When she rescues a mute boy from slavers, Sefia starts to realize that reading unlocks magic.  The two band together to unlock the powers of the book and free themselves.
Welcome to The Reader by Traci Chee.  You know how people like to say that words have power?  Well, I want you to imagine that written words actually do.  Reading the book gives Sefia powers and more.  It's a unique take on magic.  And I've never seen something quite like it.  And it's good.
It's also an interesting look at how people/history get remembered without writing.  Some people use tattoos.  Some try to live extravagant lives so that people will tell stories about them after they die.  And that desire to be remembered means the book is also filled with pirates and assassins.  There's a lot of action (it can't all be musing on what we'd lose without writing [for instance this blog wouldn't exist and where would you get book recommendations then?  You'd only have word of mouth.  Of course without writing there would be no books to recommend.  Hush.])  Anyway, lots of action and magic (hint of romance and prophecy too!).  Sefia's story, and the assassins' story and the pirates' story are all interweaved together as the power of the book is slowly revealed.
Lauren C.