Submitted by

Adult Services

on January 29, 2018 - 5:19pm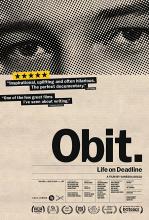 I will confess to being an avid reader of obituaries. Some people might think it seems morbid, but to me obituaries are a fascinating and often quite moving look at people and the lives they lived. I love how little details can really bring the person into focus. Despite reading obituaries every week in The New York Times, I had somehow never given much thought to how they choose who to include and how the obituaries are created. A new documentary, Obit., brings the viewer into the obituary department of The New York Times, profiling several staff writers who talk about their craft and how they feel about the stories they tell. The writers take you through everything involved in getting a finished obit into the paper by deadline: getting an assignment or pitching an idea; researching a life by calling relatives and digging through the paper files in the archive known as "the morgue"; and presenting their finished product to editors. I found it to be an illuminating look at a unique job in journalism, and a touching reflection of what it means to tell the story of a life.
Interested in more new documentary DVDs? You can see all of our new and coming soon nonfiction DVD titles here!