Submitted by

Adult Services

on July 8, 2016 - 4:51pm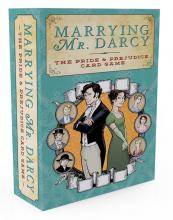 Trounce your rivals for Mr. Darcy's matrimonial hand by winning an awesome board game, Marrying Mr. Darcy. That's all it takes to become betrothed to the literary man of your dreams.
Fans of Jane Austen's classic, understated romance Pride & Prejudice can be found everywhere. The lusciously aloof Fitzwilliam Darcy draws many readers to this book. He stands as an example of the perfect Regency hero, and makes wistful readers wish they could change places with Elizabeth Bennet for even a day.
But now do something proactive. Instead of rereading the original novel or enjoying one of the many reimaginings, compete to win Mr. Darcy's hand by stepping into the delicate shoes of one of novel's iconic characters!
Marrying Mr. Darcy: the Pride and Prejudice card game is a role-playing game for 2-6 heroines that's sure to please. While away a pleasant hour, for there are events to attend, cunning strategy to employ, and suitors to attract. If not Mr. Darcy, perhaps Mr. Bingley or Mr. Wickham would suffice
Enjoy board games? Choose from among 75 (and counting) popular titles that you can check out and take home with you to play. Visit our CU Catalog for the library's collection. Or, come to the second floor reference desk, and see the games in person. Library staff are there to help you choose. And, if you're in search of keen competitors to play with you, attend one of our Second Saturday Board Game events.
Questions? Call Adult Services at 217-367-4405, or email us.  reference@urbanafreelibrary.org
Mary wt
Thank you, http://www.marryingmrdarcy.com/ for the excellent box cover image.