Submitted by

Adult Services

on October 19, 2016 - 12:14pm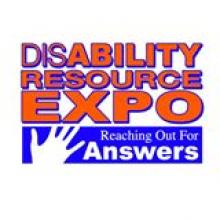 This past weekend I attended the 10th annual DisABILITY Resources Expo, providing information about assistive technology resources at The Urbana Free Library. I talked with many of our longtime patrons and visited with new friends and other exhibitors. It was wonderful to discover how many possibilities are available in our community and surrounding counties that can enhance the lives of individuals with disabilities and the lives of their families and friends.
The Urbana Free Library offers a number of supportive services and options that many folks aren't aware of.
For example, we have an Aladdin Genie magnifier and several table-top lighted magnifiers that facilitate reading small text in the library. Several of the computers in our lab have the option of adding yellow, large-lettered keyboards or track ball mice, to make it easier for those with low vision or motor disabilities to use the equipment. These same workstations contain Zoom Text software, which can enlarge text online, or convert it to speech. Our children's department offers hands-on literacy and math kits suitable for all ages. These supplement traditional auditory and visual learning.
These are just a few of the options the library can provide, along with more traditional services such as large print books, audiobooks on CD, and downloadable books, audiobooks, magazines and streaming music. For a larger, printable list of library services you might not be aware are available from Urbana Free, click on this sentence.
I want to highlight two library-related organizations I visited with at the Expo.
The Illinois Talking Book Outreach Center opens the world of reading for people in Illinois who cannot read print due to a physical or visual limitation. They provide players, digital books, access to downloadable materials, plus apps for your devices, if you prefer to get your audiobooks that way. We can tell you more about this service at our library, and help you sign up.
Illinois Radio Reader is a service that offers audio news and information from local newspapers, magazines, and more, such as the C-U News-Gazette and the Wall Street Journal. The service depends on more than 70 volunteer readers, who produce some 80 hours of local programming each week. If you are print-impaired or homebound, you can sign up for a reader radio. However, the service is also available to all, streaming via the Internet, or on your mobile devices via the SERO app. (Formerly known as the iBlink Radio app.)
Want more information about assistive technology and other services of our library? Give us a call at Adult Reference, 217-367-4405, or send email to reference@urbanafree.org
Mary wt