Submitted by

Adult Services

on February 19, 2013 - 12:31pm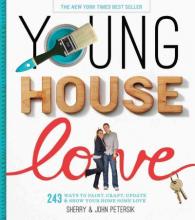 Ever since I can remember, I've had a special fondness for home decoration. The psychology behind it especially thrills me, since I was a psychology major during undergrad. I love the effect that colors have on spaces, the way they can change the mood of a room. Blues are calming, orange energizes, reds excite and stimulate appetite, and yellows evoke happiness. Certain colors are better for certain rooms, while others are to be avoided. The psychology of color is a fascinating subject on its own; couple it with home decorating, and I am one happy girl.
My interest in home decorating began at a fairly early age, with my poor bedroom taking the brunt of many poor decoration choices. It went through the glow-in-the-dark star phase, including glow bead curtains. It involved lava lamps, glitter lamps, and photos taped to the wall. When I was 12, I stenciled a flowered border around the ceiling of my bedroom, apologizing to my mom half-way through (and while sitting on top of my flimsy wardrobe, to her distress).  When I was 15, I painted a door-sized mural on the wall, again apologizing afterward. Years later, it's a wonder my parents trusted me to help them paint their house!
Luckily, my decorating abilities have improved with age. I do still paint murals on walls from time to time, but they are a bit more artistic than before. And I do still, on occasion, precariously balance on top of ladders and cabinets to paint edgework (like at my sister's house last year) but now my parents stand at the base of the ladder, holding it in place.
When I moved to the area, I bought a new couch and various decorations for my new apartment. I added the extra touches, books propped here, a metal seal statue there, unique things to tie the room together. I enjoy the general feel of the space, but I've felt myself growing restless recently, looking for something to decorate. My Decorating/For the Home board on Pinterest is currently overflowing with pins, but most of the images have broken website links. How frustrating, to find images of beautiful paint colors, room layouts, curtain ideas, pillow designs, and more, with no way to ID color names, or find instructions for the other great ideas.
Fortunately, since I work at the library, I have access to all the latest decorating books! My current favorite decorating book, which I've gone through twice already, is Young House Love: 243 Ways to Paint, Craft, Update & Show Your Home Some Love by Sherry and John Petersik. This book is packed with ideas, ranging in price, time commitment, and amount of work. It even suggests color palettes, providing the brand and color name. My favorite name was Quiet Moments by Benjamin Moore. If you find one you like better, let me know!
Whether you're looking for tips on hanging curtains, various ways to hack Ikea designs, kitchen backsplash suggestions, instructions for hanging wallpaper, or even building a headboard, Young House Love has something for all your decorating needs.
-Amber