Submitted by

Children's Services

on September 15, 2014 - 4:45pm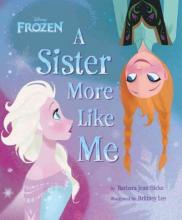 A Sister More like Me, written by Barbara Jean Hicks and illustrated by Brittney Lee, is a picture book featuring Elsa and Anna from Disney's Frozen. The book focuses less on the plot of the movie and more on the relationship between the two every different sisters. We see them as they grow up: Elsa, proper and elegant, and Anna, carefree and fun-loving.
This book is great for anyone who loved the movie (who didn't?!) but has an extra special meaning for any siblings who have struggled with their differences as they get older. When they are very young, Elsa and Anna play together all the time, but as they form their own personalities, their differences make it impossible for them to interact the way they used to play together. But as Elsa and Anna begin to grow up, they realize that their differences are what they love most about each other.
EP