Submitted by

Adult Services

on January 19, 2018 - 5:00pm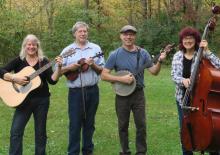 This Sunday afternoon at 2:00 p.m. the Library is hosting The Young and The Fretless, a local band that specializes in Appalachian Mountain fiddle tunes.  Have you ever come to a UFLive! performance (the third Sunday of most months at 2:00 p.m.)?  These laid-back, friendly concerts feature great local music from all genres.  Come as you are, grab a hot drink from the Cafe and relax in the beautiful front reading rooms.  You can have a front row seat to hear the the talented musicians of our community perform.   In addition to this Sunday's concert, upcoming concerts include:
- February 18 (Sunday):  Spirituals and gospel music with Noah Brown and Company
- March 18 (Sunday):  Award-winning jazz pianist Jim Pryor
- April 15 (Sunday):  Almost "A" with a magical mix of classical, jazz, Latin, and Gypsy music
All these concerts are made possible by our generous donors from the community and from the Urbana Free Library Foundation.   Hope to see you this Sunday for The Young and The Fretless!