Submitted by

Teen Services

on December 10, 2017 - 4:46pm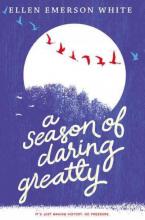 Go to college and play baseball for Stanford University, or accept an offer from the Pittsburgh Pirates as their third round pick? Many high school seniors face this dilemma each year, and it's no different for Jill Cafferty. But it is different, as she's the ace for her high school's baseball team. 
That's right. The baseball team. Not the softball team. The baseball team. She's pretty sure she's going to accept the offer to play professionally and not go to college. She just has to wait and see who wants to draft her.
And then the Pirates come calling, and she has to face the reality of her unique situation. What is she going to do when she has to say goodbye to her mother and brother and her best friends in Rhode Island? What's it going to be like playing with an entirely new group of guys, none of who are likely that happy for her to be there? But she chooses to go anyway. Baseball is in her blood; playing professionally is what she's been working towards her entire life, and she won't let a group of young 20-something boys stop her from achieving her dream. It would be difficult to say no to the Pirates' offer. So, she packs up her bags and moves to Albany, NY, where she joins the Pirates' minor league team there and starts experiencing the world as the next great hotshot pitcher. All while being the first woman to play professional baseball, a fact that Jill is aware of 24/7. 
The novel mainly follows the first few months of her first year in the minors, where she experiences everything a new player deals with—nerves, over-excitement that leads to overthrowing, as well as standard adjustments to living and traveling with the new team. But in addition to that, she must deal with everything that comes with being a girl on the boy's club and more: clubhouse accommodations so she has a private shower and private changing room, dealing with the media, and her various teammates hazing her. But she refuses to throw in the towel and give up. She is determined to succeed, even though it means balancing her love of the game with side effects she couldn't have thought possible—fame, deep sexism engrained in the sport, clubhouse and league politics. It's not all bad, though. She gets the hang of playing professionally, and starts to develop friendships with her teammates. 
While Ellen Emerson White's A Season of Daring Greatly is about a woman pioneer in a man's sport, that's not all it's about. At its heart, Season is a book about baseball. There are several passages devoted to pitch mechanics and in-game strategies. As a diehard baseball fan, I devoured those parts, but the more casual fan might find that they drag. Regardless, the book was an extremely enjoyable read. It was well-written and engaging, one that I couldn't put down. My heart ached for Jill in her moments of homesickness and self-doubt, the questions of "is this worth it?" and when she found herself struggling on the mound. Her growing friendship with her teammates makes the book a truly enjoyable read, and I found myself wanting more when I finished it. This was my first book of Ellen Emerson White's, and I'll definitely be back for more.
- Joella T.