Submitted by

Teen Services

on January 10, 2018 - 9:15am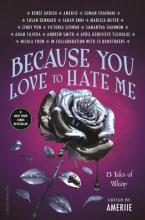 Ah, villains.  Whether you hate them or love them, they can make or break a story.  Often they're more fascinating than the hero.  Yet they always get a bad rap.  Have you ever wanted, just once, for the villains to win? 
Because You Love to Hate Me edited by Ameriie throws the spotlight on the villains with 13 stories written by authors like Marissa Meyers, Nicola Yoon, and more.  You'll see Ursula when she was the little mermaid's age, sci-fi despots, and fairies who kidnap maidens.  I bet you'll be rooting for the villains by the end.
Lauren C.