Submitted by

Teen Services

on November 22, 2017 - 12:00pm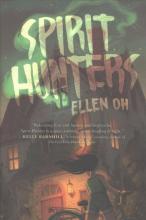 Harper does NOT like her new house. And she's pretty sure that her new house does NOT like her, either. There's cold spots, even in the miserable heat of a Washington D.C. summer. Harper gets the weird feeling that someone is watching her, judging her, making things move on their own. And then her little brother, Michael, starts acting weird after making friends with an imaginary boy. A boy he says used to live in the house…
What's even stranger is that Harper has a sense of déjà vu about the whole thing, meaning it all feels familiar in a way that she can't quite place. She remembers bits and pieces from a fire at her old school and her stay in a mental hospital, where she ended up breaking both arms and her collarbone.
Harper and her family were hoping that whatever happened in her past was over, but it looks like things are gearing up to be even worse than before. Only this time, Harper has a new friend, Dayo, who believes her when weird things start happening. And Harper lives closer to her grandmother, a very traditional Korean woman who always seems to know a lot about weird things. Hopefully it's enough, because it looks like not only Harper's life is on the line, but Michael's life might be in danger, as well.
Author Ellen Oh is also the founder of We Need Diverse Books Now, "a grassroots organization of children's book lovers that advocates essential changes in the publishing industry to produce and promote literature that reflects and honors the lives of all young people." Their vision is "[a] world in which all children can see themselves in the pages of a book." Oh makes that happen for Korean-American children, who can possibly relate to a lot of Harper's cultural experiences.
Oh's book Spirit Hunters is filled with diverse characters, as well, from Jamaican-American Dayo to African-American Mrs. Devereux, a powerful spirit who was buried in a segregated cemetery. This diversity makes the story richer, more reflective of the world we actually live in. Except, you know, with ghosts and other makes-you-sit-on-the-edge-of-your-seat supernatural stuff.
-Elisabeth