Submitted by

Teen Services

on November 29, 2017 - 9:26am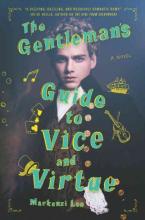 Henry "Monty" Montague has plans for his year long sojourn to Europe before he's doomed to return and take over the family estate.  Those plans do not include a strict chaperone that will not let him gallivant about town.  Or taking his bookish sister, Felicity, along on the trip.  He and his best friend, Percy, were going to do whatever they wanted.  Specifically, Monty wants to drink and flirt with every attractive person he sees; boy or girl.  But after causing a scandal and getting kicked out of school, and being threatened with disinheritance, Monty's chances of enjoying himself are slim.
But that doesn't mean he won't find someone to flirt with.  Of course he'd rather flirt with Percy, but Percy can't seem to take the hint that Monty's been in love with him for years.  And Monty doesn't want to ruin his friendship.  Instead a spur of the moment theft leads Monty, Percy, and Felicity on a race across Europe running from European governments, bandits, and pirates.
It's hard to be stylish while on the run, but Monty will do his best.
The Gentleman's Guide to Vice and Virtue by Mackenzi Lee is hilarious.  Monty is a rake and a cad, and incredibly endearing.  He'll make bad choice after bad choice, but you, reader, are still going to root for him.  The book is gloriously ridiculous, but it's got a heart and a romance that will suck you in until the very end.
Lauren C.