Submitted by

Local History a...

on November 24, 2016 - 9:00am
In honor of Thanksgiving, here are some historical facts about to share at your dinner table. We hope you have a wonderful holiday, and we'll see you back at the Archives on Friday. 
This mayoral proclamation appeared in the Champaign Gazette and Union on November 18, 1868: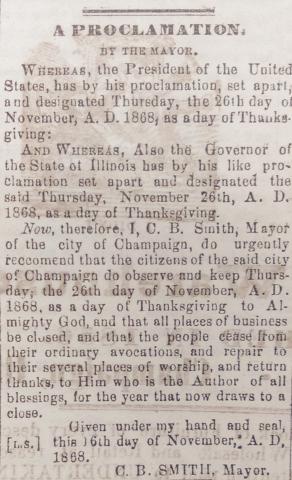 Champaign Gazette and Union, 18 November 1868, p. 1
Thanksgiving was brought to America by the Puritan religious reformers of the 17th century. Puritans did not observe traditional Christian holidays like Christmas, but did observe days of fasting and of thanks. These days were marked by somber reflection, church attendance, and culminated in a large feast at day's end.
Our common idea of the traditional "First Thanksgiving" attended by Pilgrims and Native Americans has been popular for only 175 years. It originates from "Mourt's Relation," a 1622 document by Edward Winslow. For many years, the document was out of print and unavailable until being rediscovered in Philadelphia in the 1820s. In 1841, it was reprinted in Chronicles of the Pilgrim Fathers by Rev. Alexander Young, which immortalized the popular concept of the original festivity.
The trappings of a traditional Thanksgiving feast were well-established by the American Revolution, and originated based on what was available after a colonial New England harvest. However, even in that early time period, many of the mainstays of the meal were purchased at a market, rather than produced at a family farm.
In 1777, the Continental Congress proclaimed the first national Thanksgiving holiday, but by the beginning of the 19th century, states determined when it would be observed. Beginning in 1837, Sarah Josepha Hale, editor of the popular magazine Godey's Lady's Book, advocated for Thanksgiving to be declared a federal holiday. She touted it as a chance for city-dwelling family members to return to their rural homesteads to reconnect with ideals of simplicity, familial togetherness, and charity. In the midst of the Civil War, Abraham Lincoln responded to her petitions, proclaiming the last Thursday in November "as a day of Thanksgiving and Praise."
In an effort to lengthen the holiday shopping season and increase profits for retailers during the Great Depression, in 1939, Franklin D. Roosevelt moved Thanksgiving to the third Thursday in November. This was met with such backlash from the public that two years later, Congress passed legislation making Thanksgiving a national legal holiday, to be observed on the last Thursday of November.
Urbana has hosted an annual Turkey Trot race in Crystal Lake Park since 1967, but the first Turkey Trot race was in Buffalo, New York in 1896.
Urbana Courier, 13 November 1969, p. 3
-Sarah L., Archives Assistant
______
Other Sources:
Baker, James W., and Peggy M. Baker. "Thanksgiving." Encyclopedia of Food and Culture, vol. 3, edited by Solomon H. Katz. (Detroit: Charles Scribner's Sons), 2003.
Baker, James W. Thanksgiving: Biography of a National Holiday (New Hampshire: University of New Hampshire Press), 2009.
Lincoln, Abraham. "Proclamation of Thanksgiving," from http://www.abrahamlincolnonline.org/lincoln/speeches/thanks.htm. Access 21 November 2016.
Pleck, Elizabeth H. "Thanksgiving." In Encyclopedia of Recreation and Leisure in America,  vol. 2, edited by Gary S. Cross. (Detroit: Charles Scribner's Sons), 2004.
"The History of the Turkey Trot" from https://www.active.com/running/articles/infographic-the-history-of-the-turkey-trot. Accessed 21 November 2016.