Submitted by

Adult Services

on September 25, 2017 - 10:38am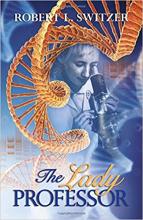 I just finished local author Bob Switzer's recently released novel, The Lady Professor.   Having read and enjoyed his nonfiction book, A Family Farm: Life on an Illinois Dairy Farm (2012), I was intrigued that he has now turned to fiction.  I was especially interested that the story's protagonist is a woman:  the story centers on Emma, an extraordinarily bright girl, born in 1900 to humble parents who work a struggling Midwest dairy farm.   
The Lady Professor takes place during a momentous period in history when women's roles were tightly restricted, and when world war and political change were sweeping the globe.  Switzer has clearly done his research, and the impact of world events plays out in the characters' lives in authentic and surprising ways. There's also an amazing science story line that underlies the book.  It's rare to see a novel with such vibrant characters deal so directly with their intellectual life – and in this case, with Emma's intellectual curiosity and scientific research.  The book has a tenderness that moved me, and an intellectual rigor that engaged me.
Switzer is also a wonderful reader and you have a chance to hear him this Sunday, October 1 at 2pm when he'll be signing and discussing his book in the library's Lewis auditorium.  Hope to see you there!
- cpi