Submitted by

Teen Services

on September 20, 2017 - 5:57pm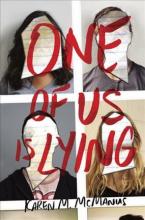 Five high school students enter detention.  Four of the them walk out.  One of them leaves in an ambulance.  What happened?
This is the premise for One of Us is Lying by Karen McManus.  Five students with very little in common have their worlds turned upside down when one of them is poisoned.  The others immediately fall under suspicion.  No one else was in the room, so one of them had to do it.  Or maybe they were all in on it.  The victim ran a site where he aired the dirty laundry of everyone in the school and no secret was safe around him.  And all of the students in detention had secrets that could destroy their plans for the future if they got out.
Alternating between the four student suspects, the book slowly unwinds what may and may not have happened as the four struggle to clear their names and keep their lives going under increased scrutiny.  As secrets come out, it looks like all of them had motive, but who did it?
Just read it.  I can't say anything else without maybe giving things away.  This is fun and fast, and will keep you guessing.  If the summary sounds like something you might read, then I highly recommend it.  It's one of the best mystery stories I've read this year.  It's got thrills, but won't terrify you.  This is more about figuring out what happened before the book reveals it.  I dare you to give it a try.
Lauren C.