Submitted by

Local History a...

on August 9, 2017 - 8:40pm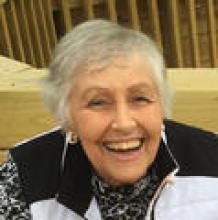 Archives staff was saddened by the death of Janet Anderson, a community leader and activist, last weekend. Ms. Anderson served the public in numerous capacities: she worked as a nurse at Carle and Burnham Hospitals, participated in numerous groups promoting public health initiatives, and served on various boards, including the Champaign County Board, from 2000-2012. Her work with community groups like the League of Women Voters and Champaign County Health Care Consumers earned her numerous awards lauding her leadership and social action.
There will be a memorial service at First United Methodist Church in Champaign on Friday, August 11, 2017 at 1 p.m. We would like to extend our sympathies to Ms. Anderson's family and friends.
Aspects of Ms. Anderson's civic and professional contributions are documented in the following Archives collections and materials:
Illinois Nurses Association Collection, 1939-2016
Janet Anderson: Oral History, 2016
Julia F. Burnham City Hospital Nurses' Strike records, 1970
"Nursing in Champaign-Urbana" Digital Photo Album
-Sarah L., Archives Assistant