Submitted by

Adult Services

on August 30, 2017 - 11:20am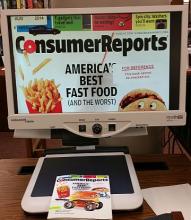 The library is pleased to announce the addition of a document magnifier to the Flex-n-Gate Computer Lab on our second floor.
The equipment—an Enhanced Vision® Merlin Ultra® 1800 Color auto-focus magnifier—is a gift from Dave Herriott and the Herriott family in honor of their uncle and aunt, Edwin and Helen Clawson.
The Merlin Ultra®Assistive Technology system is a standalone, full-color, auto-focus video magnifier that allows individuals with low vision to read, write, view documents and more in color, black-and-white, or enhanced high-contrast positive or negative view modes. Additionally, the machine can be used by anyone wanting to enlarge small printed text or images to a more comfortable reading or viewing size.
The magnifier is located on the index table near the Consumer Reports and Value Line Investment Surveys.
Your library offers additional assistive technology for you to use. We have magnifying lamps on tables throughout the 2nd floor and a different document magnifier in the 1st floor MacFarlane-Hood Reading Room (across from the café). The assistive technology workstations in our computer lab provide ZoomText Screen Magnifier/Reader Software, large print keyboards with keys that are easy to see and use, and trackballs that keeps your hand and arm comfortable, whether you use your right or left hand.
Ask staff at the Reference Desk. We'll be happy to introduce you to our Merlin Ultra® and help you use any of the equipment.
Questions? Contact us! reference@urbanafree.org   217-367-4405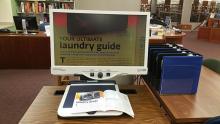 Click on images to see larger versions.
mwt