Submitted by

Local History a...

on August 23, 2017 - 7:13pm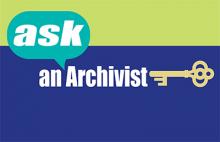 We get a lot of interesting questions through our Ask an Archivist service, where anyone can call, write, or email their queries about Champaign County history. Recently, I received a fun question that read, in part:
Can you help me, please?

I am searching for information about a coffee pot-shaped lunch room that stood near the University of Illinois.  On the second floor of the building, the owners resided.  They were Boyd and Blanche Goodell.  They also owned a coffee pot shaped (2-story) coffee shop and lunch room on Route 36 near Decatur.  These buildings were probably in business during the 1930s-1940s.
What was I able to discover about this? As with much historical research, it was not what I had hoped to find. There is plenty of information about coffee- and teapot shaped restaurants, which dotted the American landscape from the 1930s to the present day. But I expected that such an iconic piece of architecture would be well-documented in our collection. Despite searching our catalog and looking through the digitized versions of the Daily Illini, I couldn't find anything about the coffeepot restaurant.
I did find information about the restaurant's owners, Boyd and Blanche Goodell, though.
Boyd Culver Goodell was born April 4, 1881 in Mansfield, Illinois. He was married twice, and had no children. He worked as a conductor for the Illinois Traction System in the 1920s in Decatur and Champaign. Blanche Charlotte Hill was born February 25, 1881 in Deep River, Iowa. She married her first husband in 1909 and had one daughter, Frances Mae Harrington, born in 1910. After her first husband died in 1926, she married Boyd in 1928. By 1930 Boyd and Blanche Goodell were operating a lunch room in Long Creek Township, adjacent to Decatur and bisected by Route 36.
According to city directory information, the All-Rite Lunch Room was located at 1102 1/2 W. Main Street in Urbana from 1937-1943. (Currently, the vacant corner of Main and Harvey in Urbana.) This was attached to a Piggly-Wiggly grocery store at 1102 W. Main St. The Piggly-Wiggly location opened in 1931, with various businesses in the attached storefront including a carpet weaver, shoe repair shop, and a pastry shop. In 1937, the All-Rite Lunch Room was opened by Maree F. Peters, and the following year (1938) the Goodells took over and lived above the restaurant. After 1943, there was not another eatery located at the address, and the Piggly-Wiggly eventually expanded their store and took over the neighboring storefront. Boyd died in 1958 and Blanche died in 1961. Both are buried in Silver Spring, Maryland, where Blanche's daughter was living at the time.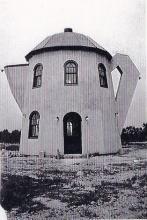 The only photograph I could find of the Goodell's restaurant was contributed by a (currently inactive) user on Ancestry.com. I don't believe it is the location of the Goodells restaurant in Urbana--it is a free-standing structure in a deserted field, and Sanborne Fire Insurance maps from 1923 and 1945 both show a rectangular building at that address.
So the question remains. Did the Goodells--or anyone else--own a coffee pot shaped restaurant in Champaign-Urbana? If you know about this location, or if you have any other burning local history questions, drop us a line. We will research and answer your question (to the best of our ability) as quickly as possible. We'd love to hear from you!
-Sarah L., Archives Assistant