Submitted by

Local History a...

on July 27, 2017 - 1:26pm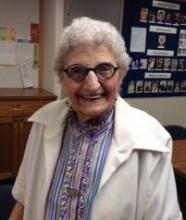 The Archives is sad to announce that longtime volunteer Virginia Lovingfoss passed away July 19, 2017 just a month shy of her 103rd birthday. She began volunteering at the Archives in 1986 and only 'retired' from her volunteer activities after she turned 100.
Virginia enjoyed working to preserve the library's collection of original photographs. One of her first tasks at the Archives was to match photographs to their published counterparts in Champaign County newspapers. After locating each photograph in the newspaper, Virginia transcribed the identifying information and caption on the reverse side of the photographs. 28 years later she would recognize her own handwriting on the back of several images as she rehoused photographs in the Archives.
Virginia's work ethic and community service were legendary. She volunteered at the Mills Breast Cancer Institute (27 years), The Urbana Free Library (28 years), the Champaign County History Museum, and was an election judge for over 25 years. She was often compared to the Energizer Bunny, who kept going and going. A broken hip at the age of 90 only slowed her down a little. A few days after her surgery she called the Archives to say that the doctor told her she could return to work in three months. Three months later she was back at work helping to index names in high school yearbooks. When her son Mark passed away and she could no longer drive, she would take the shuttle van from Clark Lindsey Village to her various volunteer jobs.  Keeping busy kept her young. "It makes me feel good to get out and see people," she was fond of saying.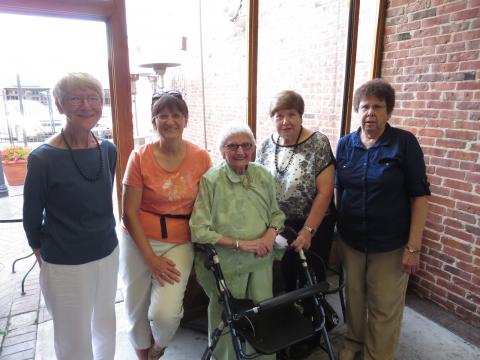 Archives staff and volunteers (past & present) with Virginia Lovingfoss at her 100th birthday party. 
Virginia not only helped preserve the Archives' collections. She also contributed to them. After the death of her son Mark in 2010 she donated the genealogical research compiled by Mark and her husband Richard Lovingfoss. The collection consists of genealogical materials relating to the Burr, Lovingfoss, Plotner, and Brand families. The Burr family came to Champaign County in the 1850s and the Lovingfoss, Plotner, and Brand families arrived shortly thereafter in the 1870s-1900s.   
The Archives offers its sincerest condolences to the family of Virginia Lovingfoss. And to Virginia, thank you so much for your many years of dedicated service and your ever present smile.
- The staff at the Champaign County Historical Archives