Submitted by

Adult Services

on August 6, 2017 - 5:00am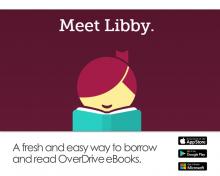 Do you use our My Media Mall service to download audiobooks and eBooks?  Or are you someone who would like to, but have never tried it?  I've got good news.  There's a new app for My Media Mall that is available for Android, iOS (iPhone/iPad/iPod touch), and Windows 10 devices.  I've been really pleased to see how much easier it is both for searching and downloading.  I recommend that everyone try the new app (whether you're a new user or already using the Overdrive app).  Here are the steps to get started -
- Install the Libby app from your device's app store.
- Open the app and find the Urbana Free Library (or your home library). You can search by library name, city, or zip code.
- Browse your library's collection and borrow a title. When prompted, sign in. You'll need a valid library card to complete this step.
- Borrowed titles appear on your Shelf and download to the app automatically so you can read them when you're offline.   This is my favorite feature.  Without any prompting, my audiobook was downloaded and ready to play!
From your Shelf, you can:
• Tap Start Reading or Start Listening to open a title.
• Tap the cover image, then Send to Device to send a book to Kindle.
Here's a short video that introduces Libby. 
There are other updates to My Media Mall that also let you read reviews, more clearly see your place in the hold queue, and even search by Reading Level for new titles.  The service has really improved in the last few years, so give it a try if you struggled before. 
Happy Reading!  And remember, library staff are always ready to help you download to your device or teach you how to use the service.  We just added many new titles (both eBooks and Audio) so you're sure to find something available to enjoy!
- cpi