Submitted by

Teen Services

on July 26, 2017 - 12:00pm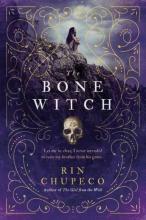 When Tea's dead brother is returned home to be buried, something in her snaps.  Her older sisters can work simple but useful magics and everyone expects Tea to be able to do the same someday.  But no one thought she'd be powerful enough to raise her brother back from the dead.  And no one is happy about it.  Raising her brother marks Tea as a Bone Witch, a powerful and needed Asha (magic user), but one whose power comes from the dark.  The same place their ancient, shadowy enemy draws their power from.  And it's a power that tends to corrupt the user and slowly kill them over time.  But Bone Witches are also the only Ashas who can lay the monstrous Daeva to rest when they wake.  And if they aren't put back down they'll wreak havoc and kill until they're stopped. 
Thankfully, another Bone Witch senses Tea's presence and takes her away to where Asha are trained.  With her dead brother is tow, Tea leaves everything behind to learn about her powers, what drives the Daeva, and how to stop her own magic from dooming her.
Think necromancy in Japan and you've got The Bone Witch by Rin Chupeco.  There's action in here, and hints at romance, but the real story is Tea's training and watching the world unfold before you as you slowly learn more and more about how things work for Asha.  The books starts with a future Tea telling her past to a bard and you know going in that some bad things have happened, but you don't know what.  It's a mystery that grabs you at the beginning and then lulls you into watching the beautiful scenery until everything explodes.  This is definitely a series set up with a slow moving plot, but it's told beautifully.  If you're a fan of intricate settings then this one is for you.  It doesn't move fast but the language is lush, and it's the kind of gorgeous you don't want to go through quickly.
Lauren C.