Submitted by

Local History a...

on July 3, 2017 - 11:41am
Take a look back at previous Fourth of July celebrations with photographs from the Champaign County Historical Archives!
The photograph below captures a patriotic Fourth of July parade on Neil Street in the 1890s. This photo was taken from the east side of Neil Street, just south of the intersection with Park Avenue, facing northwest. In the background can be seen the Walker House (left) and the Metropolitan building (right).  
While there were no "set programs" on the Fourth of July, 1890, residents of Champaign and Urbana celebrated "according to their own inclination." A reporter with the Champaign County Gazette remarked that there were "many private displays of fireworks" across the county that night.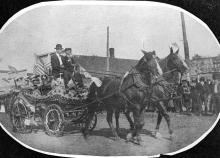 In 1904, the Twin Cities saw their fair share of fireworks. One reporter noted that "there was not a moment when explosions were not being heard." West End Park (known today as Eisner Park) was filled with balloons, as residents enjoyed elaborate displays of rockets and roman candles. A parade (seen on the left) was also part of the festivities. 
By the mid-twentieth century, Champaign County's Fourth of July celebrations had grown. In 1960, over 100,000 people came out for the city's freedom parade. 1960 also marked the City of Champaign's centennial, and floats were decorated in honor of the special anniversary.
The Fourth of July of 1976 was an extra special day, since it marked the nation's bicentennial. Festivities included the Champaign County Freedom Celebration Parade, and a 10 foot tall birthday cake (below), enough to share with 5,000 people!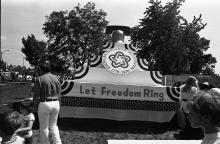 To view more photos from previous Fourth of July celebrations in Champaign County, visit the Archives' Flickr album. 
The Champaign County Historical Archives wishes you a happy and safe Fourth of July!
Breaden, Archives Assistant