Submitted by

Local History a...

on April 19, 2017 - 3:00pm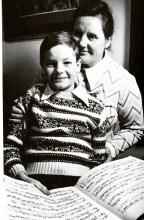 I have been indexing obituaries for the past 5 years from the News-Gazette into Local History Online, the online catalog for the holdings of the Champaign County Historical Archives.
I search for and record pertinent information about the deceased for genealogical purposes, hoping the writer of the obituary has included not only accurate birth and death dates and places, but also parents' and siblings' full names, previous married names for women, and children's and grandchildren's full and legal names. Family will often include the deceased's interests, education, favorite sports teams, or life milestones.
A recent obituary peaked my curiosity and left me wanting to know more about the life of a woman named Anna-Irmgard (nee von Bredow) Haken of Champaign. 
The obituary read in part: "The hard German bread she baked was especially popular. She was featured in Nina Rubel's 1981 book 'Heartland Beat.'" When I read this, I had to check out what had been written about her. So I grabbed the book and read, in the chapter "Happy Families Are Not All Alike", the story titled "Dare to Do" on page 209.
Even though Mrs. Haken had a Ph.D. in mathematics from the University of Kiel in Germany, her family was her devotion. Motherhood was her life's work. She stated: "Anyone can fill a job in the working world but I am the only one who can mother my children. When my children leave home at least I can say I did one thing right, and if I didn't teach, didn't use my Ph.D., so what did it matter compared to that? I feel my children would not have turned out quite the same if I had left their upbringing partly to babysitters."
Intrigued? I invite you to visit the Archives and read more about Mrs. Haken and her family. 
The photo above can be viewed on page 210 of "Heartland Beat" by Nina Rubel, 1982.
mh, Archives Assistant