Submitted by

Adult Services

on April 27, 2017 - 8:03pm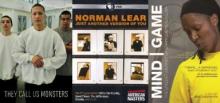 Did you miss the documentaries shown at last week's Ebertfest?
All three of the films are in Urbana Free's Non-Fiction DVD collection. Check them out and catch up on your viewing!
They Call Us Monsters
2017
DVD / 364.36 / THE
Norman Lear: Just Another Version of You
2016
DVD / 791.45 / LEA
Mind/Game: the Unquiet Journey of Chamique Holdsclaw
2015
DVD / 796.323 / MIN
Click on this sentence to read an earlier blog post about our collection of Ebertfest documentaries, all still available and ready for you to watch!
The Library tries to have as many of the films that have been shown at Ebertfest in our DVD collection as possible. Our online catalog lists the films we currently own. If you'd like help reserving them, or just want more information about our Ebertfest movie holdings, please get in touch with any of the adult services staff.
Contact us in person, or email reference@urbanafree.org or give us a call at 217-367-4405.
mary wt