Submitted by

Teen Services

on January 8, 2017 - 12:00pm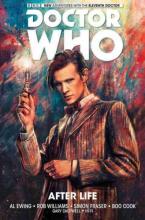 Whether you're a seasoned Whovian or new to this whole wibbly-wobbly-timey-wimey stuff, The Urbana Free Library has some *amazing* graphic novels featuring the 8th Doctor (Paul McGann), the 10th Doctor (David Tennant), and the 11th Doctor (Matt Smith). Not only do these feature original story lines, they have some seriously talented artists creating gorgeous scenes with so much color and life.
While David Tennant remains my all-time favorite Doctor, Doctor Who:  The Eleventh Doctor, Volume 1. After Life spoke to me on a personal level because the Doctor's companion, Alice Obiefune, is a library assistant, which naturally means she's very clever and resourceful (common traits of library assistants, I can assure you).
"Wait a second!" you Whovian fanatics might say, "I know ALL the 11th Doctor's companions, and this librarian wasn't one of them!" First of all, you hypothetical nay-sayers, she's NOT a librarian; she's a library assistant (yes, there's a difference). And honestly, do you think you will get to see the full compass of the Doctor's life (lives) in the show? He has all of time and space at his disposal, and you expect to see every single one of his adventures in those 60 minute increments? Can't be done. Or it probably could be done, but you'd be glued to your screen for the rest of your life, which, let's be honest, isn't very healthy.
This volume also has a fabulous reference to David Bowie in the form of John Jones, a pop-god chameleon, who was actually rather dull in his early career. That is, of course, until he follows the Doctor and Alice into the Tardis to tell them off for criticizing his first live performance. Problem is, he's so gray and dull that the Tardis doesn't even recognize him as a life form. But after he's been introduced to Robert Johnson, the 1930s bluesman so talented that it was said he sold his soul to the devil, and spends some time with the Doctor, this chameleon slowly learns to grow into his colors.
enp