Submitted by

Children's Services

on April 8, 2017 - 4:37pm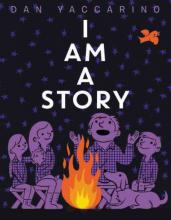 I bet you *love* stories. There are so many ways to enjoy a good story. You can hear one. Or read one. Or tell one. Or watch one. The best stories are ones that are changed and shaped by the countless storytellers who take a story and make it their own.
I Am a Story by Dan Yaccarino tells the story of the story. From cave paintings to clay tablets, from tapestry to illuminations. Stories have been around as long as people have had a way to communicate them. And even though they've been challenged and outright attacked, stories will live on forever.
This picture book is wonderful for little readers who can't handle too many words on a page yet and is a great introduction to the wonderful world of storytelling.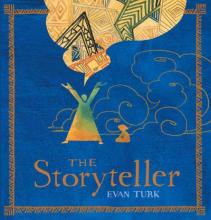 If your little reader has more patience for a good story with several sentences on a page, then check out The Storyteller by Evan Turk. This picture book is full of gorgeous and colorful illustrations by Turk with an ancient, grainy look.
The Storyteller is set in the kingdom of Morocco, at a time when the people had forgotten the art of storytelling. The kingdom was in a great drought after their fountains had dried up, and the spirit of the Sahara threatens to destroy them with a mighty sandstorm. A young boy hears a story about how a magical bird saved an ancient kingdom from a drought, and the boy uses this story to try to save his own kingdom.
Check out a Story Time for infants or toddlers or preschoolers, in English or Spanish or Chinese and more!
-Elisabeth