Submitted by

Adult Services

on April 1, 2017 - 10:35am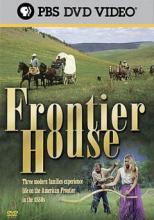 Are you a fan of the past? Do you crave more television shows such as Survivor, which pit man and woman against rough, unfamiliar living accommodations? Could you see yourself gracing the halls of the real Downton Abbey? Do you ever wonder what it was really like to live in times gone by?
Let The Urbana Free Library's nonfiction DVD collection introduce you to the wonderful world of historical reenactment, also known as historical re-creation.
Specifically, discover educational television series which recreate moments in time, and then populate them with 20th century humans. These living history documentaries take folks into the past and give them the opportunity to survive the way our ancestors did. Can they exist without electricity, or figure out how to dress in complex Regency costumes?
Here's a online catalog list of the historical reality show titles the library currently owns, plus a print list of them to browse below. To whet your appetite, check out the film clips beneath some of the titles.
DVD / 940.531 / NIN
The 1940s House
DVD / 941.073 / REG
Regency House Party
DVD / 941.081 / EDW
Edwardian Farm
DVD / 941.081 / NIN
The 1900 House
DVD / 942.0823 / MAN
Manor House
DVD / 974.102 / COL
Colonial House
DVD / 978.6 / FRO
Frontier House
If you discover you enjoy this genre of documentary, we also have the recently-produced  Victorian Slum House on order. Place a hold!
Our nonfiction DVDs are on the 2nd floor. Come check out our collection. We've just created a "NEW DVD" section, to help you quickly peruse our recent arrivals.
As usual, Adult Services staff can assist you in finding these DVDs or other historical materials, and help place holds. Talk to us, or call (217 367-4405) or email reference@urbanafree.org.
Interested in more traditional local history or genealogy? Staff in our Champaign County Historical Archives can answer your questions. The door to the Archives is located conveniently next to the nonfiction DVD display.
Marywt