Submitted by

Local History a...

on March 29, 2017 - 8:30pm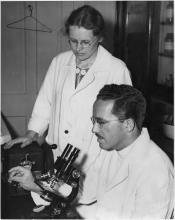 I came across this photograph recently while compiling images for our Flickr page. It is of Dr. Max Appel and Elizabeth Chase, Ph.D., at Burnham City Hospital. The photograph was used in a News-Gazette feature photograph about the hospital's new cancer control center ("Cancer Control Clinic," 23 August 1942, p. 8).
Prior to 1942, the hospital relied on an off-site pathologist who was available for consult only once a week. This meant delayed treatment and the endangerment of patients' lives. Supported by the state of Illinois, the new laboratory at Burnham allowed for almost immediate on-site analysis to diagnose and treat patients. The facility consisted of a clinical lab for the testing of bodily fluids; a pathology lab for the examination of removed tissues during surgery; a blood bank; and a tumor clinic. It was further equipped with an autopsy room, x-ray machines, an electrocardiogram, and other instruments used for diagnostic and instructive purposes. The laboratory also functioned as a school to train technicians, accepting two new students per year who were personally instructed by Dr. Appel.
In 1943, Elizabeth Chase was promoted to lead the tissue laboratory, and Max Appel was appointed director of the laboratory. By 1945, Dr. Chase and her husband had left Illinois, eventually settling in New Hampshire where she died in 1967. Dr. Appel served in the Navy Medical Corps during World War II, then returned to Champaign. He worked tirelessly. In addition to his work at Burnham, he worked with the Champaign Police department to perform autopsies and eradicate drunk driving (he would often perform late-night tests on suspected inebriants). He promoted polio vaccination by working with local media and with the Public Health Department. And on weekends, he travelled to Michael Reese Hospital in Chicago to collaborate on advances in cancer research. He died in 1963 after a sudden heart attack, having never missed a day's work.
For more images depicting the medical field and healthcare in Champaign County, check out our newest Flickr album, Nursing in Champaign-Urbana.
-Sarah L., Archives Assistant